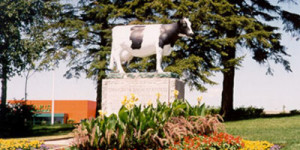 About Our Company
Springbank Cheese Company is owned and operated by the Hemsworth family, with the assistance of experienced, capable, and friendly staff members. The Hemsworths have been in the cheese business since 1960.
The company is named after the Springbank Snow Countess, a celebrated Holstein cow who was a "world champion producer." A statue stands in her honour in Woodstock, Ontario on the place where Springbank Farm (her home) was once located.
Today, we sell more than 400 kinds of cheese, including imported products from around the world.
At our federally registered cheese packaging plant in Woodstock, bulk cheese is cut and packaged into deli- and consumer-size pieces that are sold under our brand name and under private labels according to customers' requirements. This facility is licensed by the Canadian Food Inspection Agency, which means that it is subject to regular plant and product inspections to ensure compliance with the strict regulations associated with dairy products.
Our markets are varied:
Wholesale Customers: Food-service sector organizations, including restaurants, hotels, caterers, dining establishments, distributors and institutions.
Retail sector organizations, including grocery stores, cheese shops, deli counters and farm-markets vendors, and industrial users.
Fundraising Groups: Schools, sports groups, church groups, and other not-for-profit organizations across Canada, which access this highly effective means of raising funds for their projects.
Gift Basket Clientele: A complete cheese gift line is offered seasonally to retail customers, stores, fundraisers and corporations.
Retail Customers are welcomed at our small outlet in Woodstock and our four much larger and more elaborate stores in Calgary, situated at 2015 14th Street NW, Willow Park Village Shopping Center, Crowfoot Corner, and Garrison Gateway (Marda Loop).
At Springbank Cheese, we are committed to the highest standards of quality and customer service and value every customer and order. Our experienced cheese experts in Woodstock and Calgary offer prompt, friendly service, along with advice and guidance if desired. All products come with a satisfaction guarantee.
OUR TOLL-FREE FUNDRAISING TELEPHONE NUMBER IS
1-800-265-1973 Extension 26

WE CAN ALSO BE REACHED BY E-MAIL AT fund@springbankcheese.ca